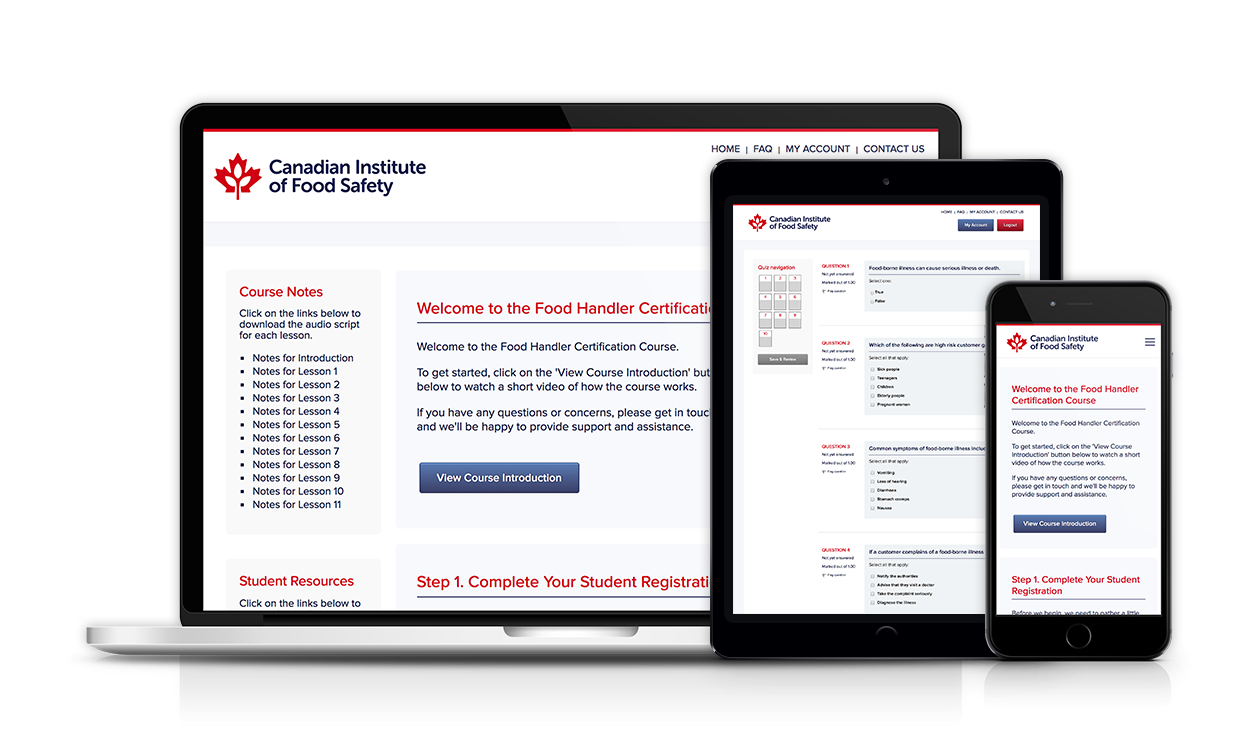 The Official CIFS
Food Handler Certification Course
The industry standard in your province for Food Handler Certification – become recognized and Government-approved in your city and across Canada.
Valid in Your Province & Canada Wide
Recognized in your province and throughout Canada. You'll be a certified Food Handler across Canada for 5 years.
100% Online
Study anywhere, from any device with an internet connection. Complete your exam anytime – no need to schedule in advance.
Same Day Certification
Get your certificate today or go at your own pace. Pause and continue your course from where you left off. You have 30-days to complete.
Free CIFS Membership
Enjoy full access to members-only food recall notifications, guides, posters, checklists and more.
We're Here to Help
The course is straight-forward and easy to follow. But if you ever need help, our team are available by phone or email to help with technical support, enrolment, payment and any other questions you may have.

No question goes unanswered.

With CIFS you'll find the whole process smooth and easy.
When will I get my Food Handler Certificate?
As soon as you pass your final exam, you can request your certificate to be emailed directly to you.
Does my certificate expire?
Yes, all Food Handler Certificates expire after 5 years.
What skills do I need to complete the course?
To complete this course you'll need skills in:
English language, literacy and numeracy
computer use
independent study
How long does the course take?
The course takes approximately 8 hours to complete.
This can vary depending on your food handling experience, English language skills and computer literacy.
You don't need to complete the whole course in one sitting – you have 30 days to start and stop as often as you need. The course software will remember what lesson you're on and prompt you to resume where you left off.
Is the course 100% online?
Yes, the Food Handler Certification course is 100% online and accessible 24 hours a day, 7 days a week.

Prerequisites
There are no prerequisites for this course.

Technical requirements
You can access your course on any device (with internet access) including your:
smartphone
tablet
laptop
computer
To complete your exam you will need a computer or laptop with a webcam. You will also need:
a modern browser (available as a free download)
an email address
Adobe PDF Reader (available as a free download) or Adobe Acrobat
Everything you need to become a certified Food Handler, all in one course. The Food Handler Certification Course is divided into four easy to follow modules, each with a series of lessons. User-friendly navigation, allows you to start, stop and continue from where you left off.
Throughout the course, you'll be kept engaged with:
useful study notes & fact sheets
interactive activities
practice quizzes
downloadable resources
Learn at your own pace.
The course will take approx. 8 hours but can be completed at your own pace over 30 days.

Module 1: Understanding food safety
Lesson 1: Understanding food contamination
Lesson 2: Food-borne illness & allergy management
Lesson 3: Food safety laws & responsibilities

Module 2: Preventing food-borne illness
Lesson 4: Personal hygiene & workplace behaviour
Lesson 5: Time & temperature control
Lesson 6: Cleaning & sanitizing
Lesson 7: Maintaining food premises & equipment

Module 3: Working with food safely
Lesson 8: Purchasing, receiving & storing food safely
Lesson 9: Preparing food safely
Lesson 10: Serving & dispensing food safely

Module 4: Managing your food safety plan
Lesson 11: Managing your food safety plan

About the final exam
The final exam is available 7 days-a-week at multiple times each day – no pre-scheduling required.
Exam length?
1 hour
What's on the exam?
50 multiple choice questions.
Passing grade?
70%
Is is proctored?
Yes. To connect with a Proctor, the exam must be accessed from a computer with a webcam and microphone.
When can I write the exam?
The exam is available 7 days-a-week at multiple times each day – no scheduling required.
What does the Proctor do?
They are there to check your ID and ensure that no one is assisting you on your exam.
How quickly will I get my certificate after passing?
It will be emailed directly to you within minutes of passing your exam.
What if I fail?
96% of our students pass on their first try, but you can purchase an exam re-attempt if needed.
Trusted by the Canadian Food Industry
Recommended by Canadian Food Workers
98%
of students recommend this course to others
96%
of students rate this course as good or excellent
"It was so convenient and easy to use."
Angie P. - Saskatchewan
---
"I could go at my own pace,
and go back over things if I needed too."
Katie M. - Nova Scotia.
---
"10/10 satisfaction, I will be recommending your course to anybody I know that needs their certification. Great stuff."
Mark K. - Ontario
Includes:
Online Course
Final Exam
Official Certificate
30 Day Course Access
Free CIFS Membership (a $74.95 value)
Money Back Guarantee
No Additional Costs
Your Food Handler Certificate will be valid for 5 years in your province & across Canada.
Your personal information and electronic payments are secured using industry standard 128 bit SSL technology