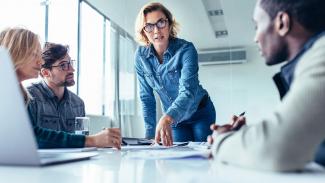 When you join the CIFS team, you're not just working for a great organization - you're saving lives.
Our mission is to reduce food-borne illness in Canada by educating, promoting and advocating for better food safety.
It's something that everyone on the team works towards. At CIFS, you'll be contributing to the health and well-being of Canadians.
Why work at the Canadian Institute of Food Safety?
Here's why we think that CIFS is a great place to work.
Challenging and interesting
No two days are the same at CIFS. In a typical week, our team help businesses to train their staff, send out food recall information and develop new courses.
Professional development
We take our employees' professional development seriously. We encourage and support the pursuit of your interests and help sharpen your skills.  
Everyone is encouraged
Whether you're a senior manager or a part-time intern, everyone is encouraged to share ideas and suggestions for improvement and to lend a hand to others in the team.
Support for causes
As a team, we enjoy fundraising and volunteering at events with a focus on reducing food-borne illness, food waste, and helping vulnerable people who don't have enough to eat.
A shared commitment
We celebrate achievements together and we deal with issues together. We have a real passion and determination to work together and achieve our goal of reducing food-borne illness throughout Canada.
Individual recognition
We understand that a sense of achievement is a great motivator and gives a strong feeling of job satisfaction. We reward and recognize hard work, and celebrate the wins of team members.
As the educator, promoter and advocate for better food safety in Canada, CIFS offers a variety of challenging and rewarding roles - from food safety research to course development, communication to administration and customer support.
We're always on the lookout for great people with enthusiasm and passion who want to pursue a career in food safety. If you think you have skills that we need and a personality that fits, we'd love to hear from you.
Please contact us for more information about working at CIFS.