The importance of food safety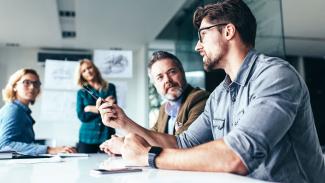 Every year in Canada, thousands of people get sick and many die due to poor food handling practices. Many of these incidents are easily avoidable.
At the Canadian Institute of Food Safety, we want to make a difference. The mission of each and every team member at CIFS is:
To reduce food-borne illness in Canada through education, promotion and advocacy for better food safety.
The frightening facts about food safety in Canada
Food-borne illness is significant in Canada and the consequences for both consumers and food business owners can be dire. Lost productivity, impacts on lifestyle and medical expenses create a large burden for the whole country.
Then there's the damage to food businesses that are fined, prosecuted or shut down for causing food-borne illness outbreaks.
Health Canada estimates that every year in Canada there are:
4 million cases of food-borne illness
11,600 hospitalizations 
238 deaths
How can we solve this problem?
The costs of food-borne illness showcase the great need to strengthen our food safety. Some of the major causes of food-borne illness outbreaks in Canada are:
issues with time and temperature control of food
improper cleaning and sanitizing of equipment and surfaces
poor personal hygiene of food workers
Understanding and preventing these causes is simple. In fact, it takes just a few hours to train an employee in these areas and teach them how to work with food safely.

At CIFS, we firmly believe that food safety education is the key to achieving our mission. We go the extra mile with our Membership program. Our Members are able to keep food safety top-of-mind with access to our full Resource Library and updates on food safety news and product recalls.
How are we achieving our mission?
To improve food safety in Canada, we want to make it as easy as possible for businesses to do the right thing. We want to protect both business owners and consumers from the consequences of food-borne illness.
The CIFS team are achieving these goals through:
Advocating for improved regulation
Food safety legislation varies widely between provinces and territories. We are advocates for bringing food safety up to the highest level across all of Canada.
Delivering quality education
Working with food safety experts and instructional designers means our training is more than compliant - it's highly effective and impactful.
Announcing public health information
At CIFS, we release public health information in the form of news, resources and tools to help food businesses and consumers to minimize food safety hazards.
Boosting consumer awareness
Food safety is of greater importance to consumers than ever. CIFS Food Handler Certificates are designed to give people peace of mind about where they're eating.